Welcome to Fort Lauderdale and experience Lifestream's massage. Our massages are a full 60, 75, or 90 minutes.
Never any additional charge for deep tissue and each massage includes our aromatherapy tranquility welcome,
hot towels on the back and feet, and a lavender and chamomile eye pillow. Lifestream also has 2 couples rooms to be near to that special someone.
Introductory Offers!!!
(Offers Valid Tuesday thru Friday Only)
$69 60 min. Lifestream therapeutic massage
$138 60 min. Couples therapeutic massage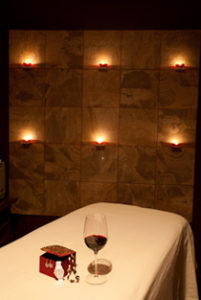 Lifestream Therapeutic Massage
60 min. $92 / members $75
75 min. $110 / members $93
90 min. $130 / members $110
The choice is yours; from traditional Swedish to Deep Tissue that is
tailored to your needs by your massage therapist to relieve tension in
specific areas of muscle aches and stiffness; improving circulation
and flexibility, while promoting relaxation. Aroma therapy included.
Lifestream Couples Therapeutic Massage
60 min. $184 / 75 min. $220 / 90 min. $260
Just lie back among our 100 year old Zin vines in our
couples room and gaze upon the stars while letting
everything melt away with that special someone…
Sacred Nature Signature Massage
60 min. $120
Soulful, nurturing, embracing… A true comfort zone is created with this one-of-a-kind ritual massage, using organic jojoba oil, anti-oxidant buriti oil and skin renewing butterfly bush extract. Includes paraffin wrap for the feet.
Hot Stone Massage
60 min. $110 / members $100
90 min. $150 / members $140
Heated basalt stones produce a soothing state; detoxifying, relaxing and draining action. The heat of the stones relieves muscle pain, increases body metabolism and relaxes the tissues.
Head, Hands & Feet
60 min. $95
Massage concentrating on Scalp, Neck, Face, and Feet giving a complete and deep relaxation
Maternity
60 min. $95
Designed for the mother to be (after the 1st trimester); a rebalancing and relieving treatment.
Neck and Back Massage
35 min $55 / members $45
Complete tension relief on the two areas that need it the most. Feel relief as the tension melts away!
Add-ons
Hands and Feet Paraffin Wrap
$25 with other treatments /$50 alone
Treat the Feet
$30 with other treatment /$50 alone
Sacred Nature organic scrub exfoliates the feet and legs, followed by hot towels, paraffin wax,
warm booties and a 15 minute massage for the feet–the owner's favorite.

*Benefits of massage include: eased stress and pain, calmed nervous system,
increased circulation, stimulated lymph-boosting immunity, relief of back pain
and migraines, reduced fatigue, increased joint mobility and range-of-motion
and released endorphins – the body's natural pain killers. The effects of
massage therapy are cumulative, meaning the more often you get a
massage the greater and longer-lasting the benefits.