Your Fort Lauderdale massage at Lifestream Spa® is fully tailored to meet your needs. Most of all, each session is a full 60, 75, or 90 minutes, and there is never an additional charge for our deep tissue option. In addition to, every session includes our aromatherapy tranquility welcome from Comfort Zone, hot towels on the back and feet, and a lavender and chamomile eye pillow.  Finally, wanting to share that special moment with someone close?  Lifestream Spa has two beautiful couples massage rooms that are custom in style.
Read Nicole A.'s review of Lifestream Spa® on Yelp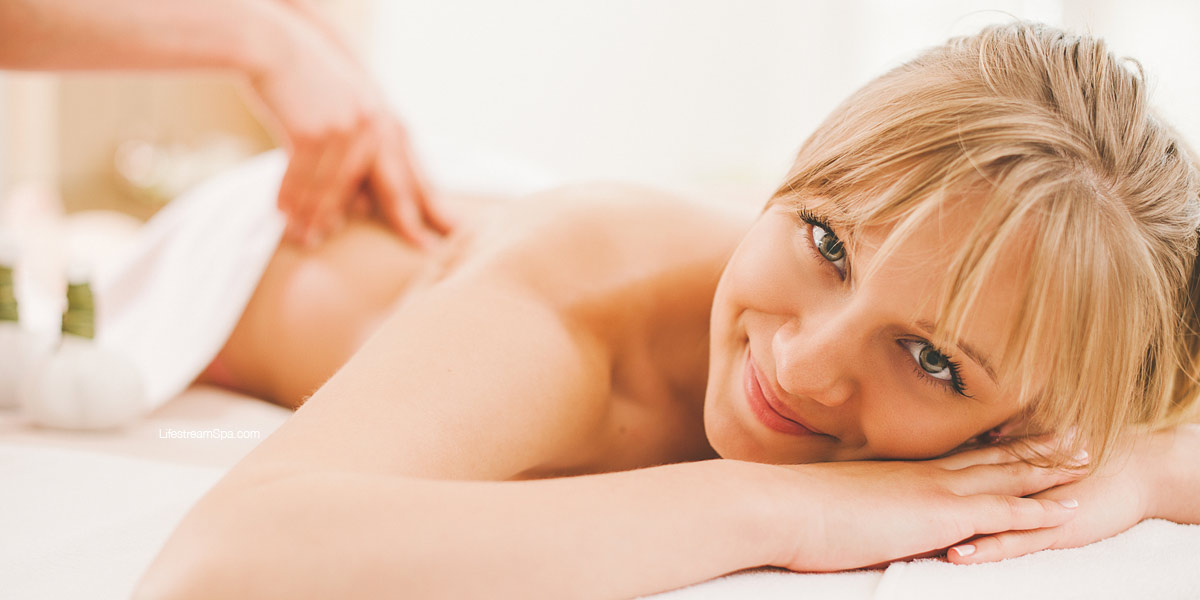 Special Introductory Offers >
Fort Lauderdale Massage Menu:
Lifestream Therapeutic Massage
60 min. $99 / members $85
75 min. $119 / members $105
90 min. $139 / members $125
The choice is yours; from traditional Swedish to Deep Tissue that is tailored to your needs by your massage therapist to relieve tension in specific areas of muscle aches and stiffness; improving circulation and flexibility, while promoting relaxation. Aroma therapy included.
Lifestream Couples Therapeutic Massage
60 min. $198 / 75 min. $238 / 90 min. $278
Lifestream Spa has two couples rooms. Lie back among our 100 year old Zin vines and gaze at the stars on the ceiling or our India inspired motif while letting everything melt away with that special someone.
Sacred Nature Signature Massage
60 min. $135
Soulful, nurturing, embracing… A true comfort zone is created with this one-of-a-kind ritual massage, using organic jojoba oil, anti-oxidant buriti oil and skin renewing butterfly bush extract. Includes paraffin wrap for the feet.
Hot Stone Massage
60 min. $125 / members $110
75 min $145 / members $130
90 min. $165 / members $150
Heated basalt stones produce a soothing state; detoxifying, relaxing and draining action. The heat of the stones relieves muscle pain, increases body metabolism and relaxes the tissues.
Maternity
60 min. $104 / members $89
Designed for the mother to be (after the 1st trimester); a re-balancing and relieving treatment.
Neck and Back Massage
35 min $65 / members $55
Complete tension relief on the two areas that need it the most. Feel relief as the tension melts away!
Add-ons
Hands and Feet Paraffin Wrap
$30 with other treatment
Treat the Feet
$35 with other treatment / $50 alone / members $30
Sacred Nature organic scrub exfoliates the feet and legs, followed by hot towels, paraffin wax, warm booties and an added massage for the feet–The owner's favorite!
Fort Lauderdale Massage Benefits
Across the globe, massage therapy has become an integral part of holistic health regimens.  Also it is extremely beneficial in sharing your experience with that special someone during a couples massage. Where as doctors are increasingly prescribing massage therapy to treat a wide range of medical conditions. In addition to, scientific studies are finding what many massage therapists and healers from cultures all over the world have known for centuries that massage is beneficial to the health of all the systems associated with your body and mind.
Massage Benefits For Your Body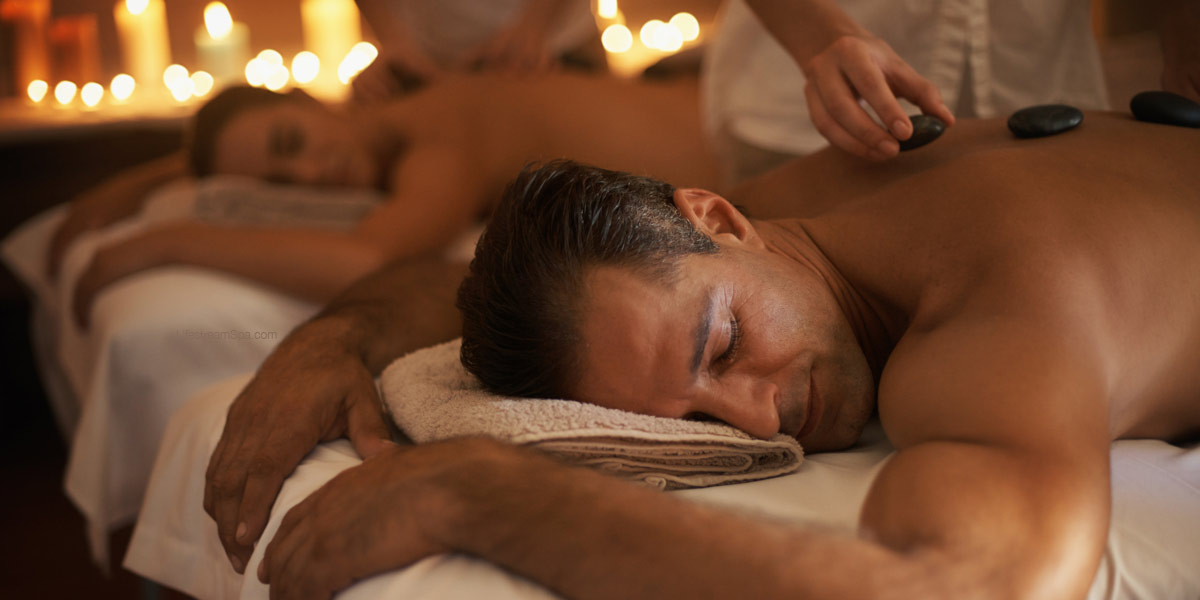 Reduces muscular pain, cramps, spasms, tension, and knots. Massage increases local circulation and relaxes the tense muscle, breaking the "pain-spasm-pain" cycle, reducing pain, and leading to increased flexibility and range of motion.
Reduces chronic pain. Numerous scientific studies have found massage to be effective at reducing pain associated with a variety of injuries and chronic conditions, including: arthritis and joint pain, slipped or herniated discs, fibromyalgia, sciatica, chronic fatigue syndrome, spinal cord injuries and many more.
Reduces fatigue. The toxins and metabolic waste that build up in your body can lead to fatigue. Massage helps your body to flush these waste products through stimulation of the lymphatic and cardiovascular systems, thereby reducing fatigue and improving our cellular functioning.
Increases range of motion and flexibility. Lifestream's Therapeutic Massage can increase range of motion and flexibility in a variety of ways. It can help relax and loosen tight muscles, break up adhesion's that can form on the tendons and ligaments around joints, and soften the connective tissue that surrounds everything (including muscle, ligament, tendon and bone) in your body.
Improves immune system and digestive functions. Massage allows your nervous system to enter its parasympathetic (relaxation) response, which allows your body to send energy and resources towards restoration and healing.
Relieves tension headaches and migraine pain. Many headaches can be caused by muscle tension. Your Lifestream's Therapeutic Massage can help relieve this tension.
Lowers blood pressure. Countless studies have shown that massage can help lower blood pressure. This very important part of heart health can help reduce the risk of heart disease.
Massage Benefits For Your Mind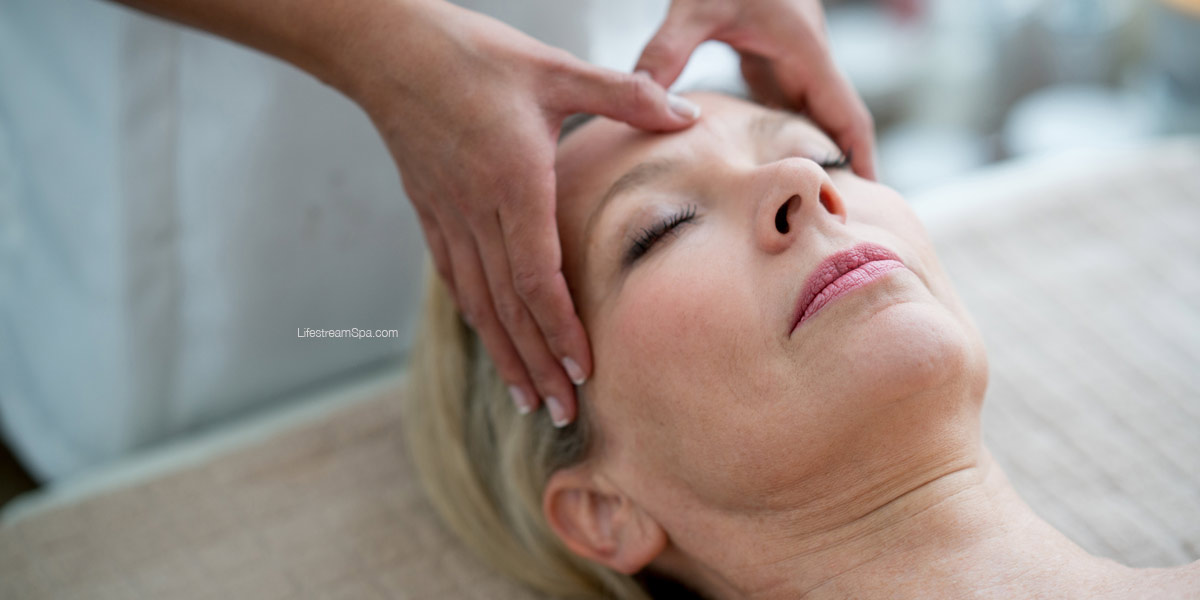 Reduces anxiety. Numerous studies have directly related massage with reducing stress and anxiety. In addition to reporting less stress and anxiety, study participants showed lower cortisol (stress hormone) levels. Lower levels of stress hormones may be one of the most beneficial factors in overall health and well-being.
Improves sleep habits. After getting a massage, many people report getting a great night's sleep. Regular massage can help teach you how to bring your body into a state of deep relaxation, which can help you fall asleep quicker and sleep more soundly.
The good news is you've already found the best massage in Fort Lauderdale! Don't take our word for it, check out our Guestimonials for yourself.